Introduction
This is a 7" Raspberry Pi LCD touchscreen with 800*480 resolution and 154.8x85.92mm display area. The product supports Raspberry Pi DSI display interface and comes with a capacitive touch panel on its screen and supports 5 touch points. The special holes design on the back of the screen is convenient to directly install the Raspberry Pi in the product. There is no need to provide external power for the touchscreen as the Raspberry Pi power supply is adopted. In addition, the screen supports hardware backlight adjustment. The function can be realized by turning the potentiometer on the back of the display.
Features
Capacitive Touchscreen, Support 5 TouchPoints.
Raspberry DSI Direct Driver
Specification
Operating Voltage: 3.3V (Supplied by Raspberry Pi display interface)
The Maximum Operating Current: 450mA
Resolution: 800*480
Video Interface: Raspberry Pi DSI
Number of Touch Points: 5
Viewing Angle: 60°/70°/70°/70°
RGB888-16 Mega True Color
Refresh Frequency: 60Hz
Luminous Efficiency: 280 cd/m2
Operating Temperature: -20℃~70℃
Dimension: 165mm×100mm / 6.50" × 3.94"
Mounting Hole Size: M2.5
Outside Mounting Hole Position: 155mm × 80mm/ 6.10" × 3.15"
Inside Mounting Hole Position: 58mm x 49mm/ 2.28" x 1.93"
Board Overview
DISPLAY interface can be connected to Raspberry Pi's DISPLAY interface via FPC wiring.
The Touchscreen's brightness can be adjusted via a potentiometer.
Tutorial
Step 1. Insert an SD card that with a Raspberry Pi system into Raspberry PI.
Step 2. Connect display interface of the 7" touchscreen to that of Raspberry Pi via a provided FPC wiring.
Step 3. Connect Raspberry Pi to the power supply, and then you can use the touchscreen.
Dimension Diagram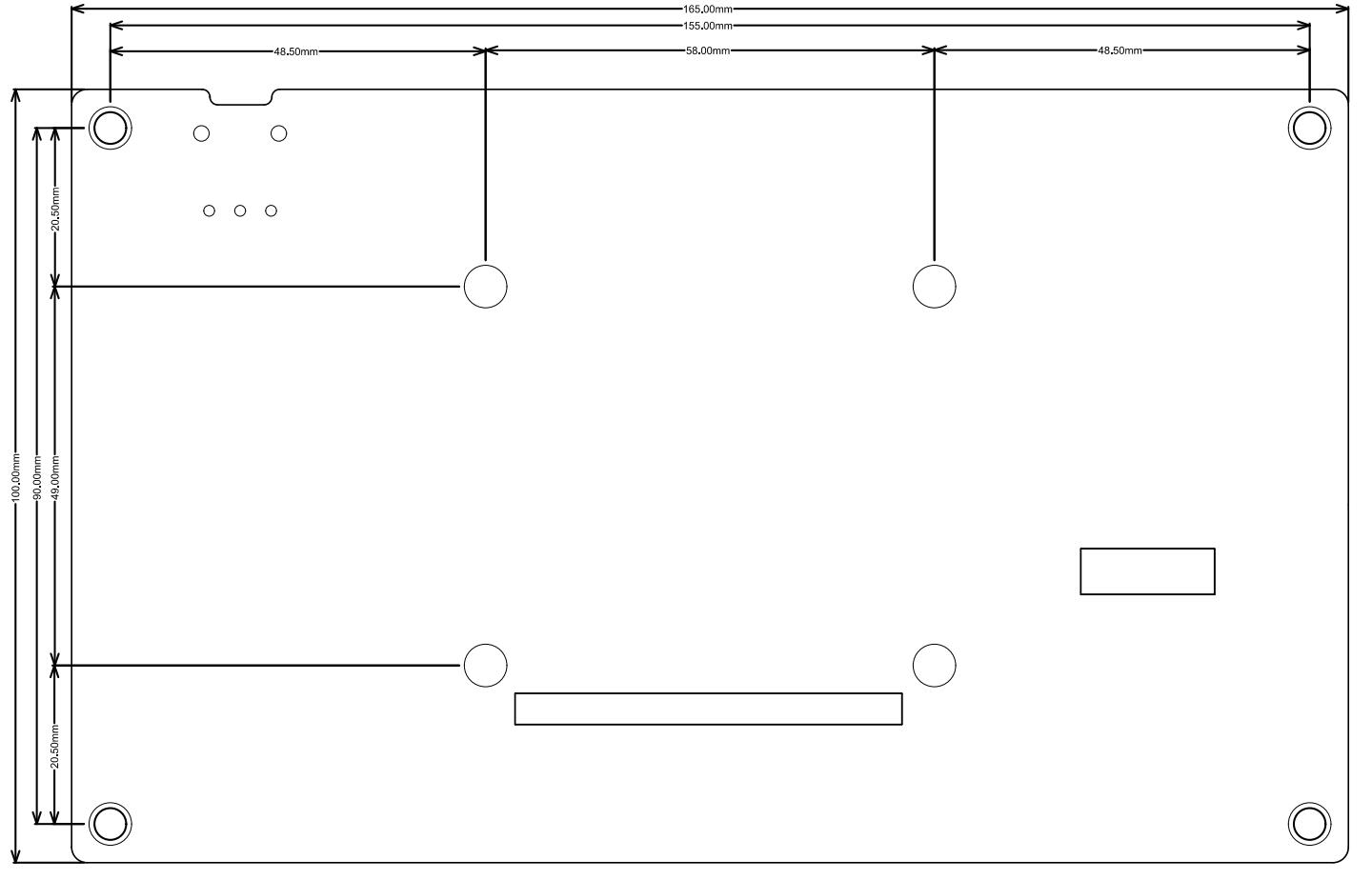 FAQ
Q: The sensitivity and response of the touchscreen is not so good after it is connected to Raspberry Pi. How to solve it?
A: Please check Raspberry Pi's power. The current of the touchscreen should be at least 1.5A during its work.

B: Please check the resolution configuration. Refer to Raspberry Pi tutorial for details.
For any questions, advice or cool ideas to share, please visit the DFRobot Forum.
More Documents
-[DFR0678]Schematics & Layout.pdf
Get 7'' 800x480 TFT Display with Touchscreen (DSI) from DFRobot Store or DFRobot Distributor.